Farmers first planted cloves in the open fields of Zanzibar in the early 1800s. The island's tropical climate and mineral-rich soil were ideal for growing this potent spice, which gained a reputation for adding an aromatic sweetness to dishes of the wealthy all across the globe, thanks to European explorers and German missionaries. When these travelers returned to their homelands with news of this fragrant spice, they helped to ignite what eventually became one of the largest markets for spice trade in the world.
In later years, as the slave trade made its way to Zanzibar, these forced laborers became key to the cultivation of cloves. Eventually cardamom cinnamon, cumin, ginger and other aromatics were introduced to Zanzibar, and the East African destination became known both at home and abroad as the Spice Island.
Today, travelers can take a trip back in time by embarking on a Spice Island Tour. With the help of an expert guide, visitors explore island plantations, learn about the historic trade, sample fresh-from-the-vine foods and share a traditional meal with other guests. The experience is as informational as it is memorable, and an essential part of any trip to Zanzibar.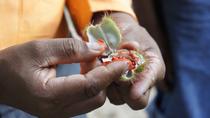 10 Reviews
Learn the true meaning behind Zanzibar's nickname of 'Spice Island' on this 4-hour food-and-spice-oriented tour. With a local guide, dig deep into the island's ... Read more
Location: Zanzibar City, Tanzania
Duration: 4 hours (approx.)