No reviews, be the first!
Address:

Campo Santa Maria del Giglio, San Marco, Venice, Veneto 30125, Italy

Hours:

Mon–Sat 10am–5pm

Admission:

€3
Chiesa di Santa Maria del Giglio (Santa Maria Zobenigo) Tours
Founded in the ninth century, the church of Santa Maria del Giglio (which translates into English as 'St Mary of the Lily') is more often known by Venetian locals as Santa Maria Zobenigo. It was rebuilt in its present form by Italian architect Giuseppe Sardi in 1681, at the behest of Antonio Barbaro, who was a renowned military leader and scion of a wealthy Venetian dynasty. The church has the most ornate Baroque façade of any in Venice, which appears grafted on to an otherwise perfectly plain exterior, and is unusual in that it is bristling with secular imagery. Santa Maria is topped with marble statues of the Barbaro family and adorned with figures of the Four Virtues, all executed by sculptor Flemish architect Giusto Le Court, who also worked on Santa Maria della Salute. Maps of the regions where Barbaro served on his campaigns, including Crete and Albania, battle scenes and his coat of arms are inscribed across the façade. This is the only church on Venice to display a painting by Flemish Old Master Peter Paul Rubens, now behind glass in the Molin Chapel; other showstoppers in its stately interior include a Jacopo Tintoretto altarpiece and an ornate baptistery covered in chubby cherubs.
Practical Info
Campo Santa Maria del Giglio, San Marco, Venice. Open 
Mon–Sat 10am–5pm. Admission €3. Ferry to Santa Maria del Giglio.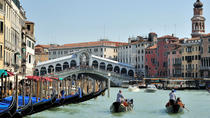 The exclusivity of a Traditional Private Tour for a any occasion! Our Private Tour is an unforgettable experience for couple and groups of any size, combining ... Read more
Location: Venice, Italy
Duration: 30 minutes (approx.)
2360 Reviews
Waft by the beautiful sights of Venice on a 30-minute shared gondola ride and enjoy a serenade, too. Select an afternoon or evening trip, be welcomed aboard ... Read more
Location: Venice, Italy
Duration: 30 minutes (approx.)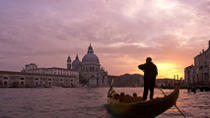 597 Reviews
For the quintessential Venetian experience, take a serenaded gondola ride on the canals of Venice, followed by lunch or dinner – depending on your afternoon or ... Read more
Location: Venice, Italy
Duration: 2 hours (approx.)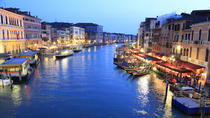 432 Reviews
Explore romantic Venice by daytime or night, and see a selection of the city's gems! During a relaxing walking tour, pass top Venice attractions such as Rialto ... Read more
Location: Venice, Italy
Duration: 2 hours (approx.)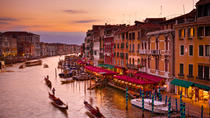 23 Reviews
You cannot say to have lived Venice in all its aspects, if you have not ridden on a Gondola! Let yourself be accompanied by music in a relaxing 30 minutes ... Read more
Location: Venice, Italy
Duration: 30 minutes (approx.)