No reviews, be the first!
Address:

Viale Miramare, Trieste, Italy

Hours:

9am–7pm

Admission:

€4; Entrance to the park is free
Miramare Castle Tours
The royal road to an afternoon well-spent in Trieste begins at Miramare Castle, the extravagant 19th-century home of Archduke Maximilian of Austria (later Emperor Maximilian of Mexico) and his wife, Charlotte of Belgium. Built in 1860, Miramare Castle, known in Italian as Castello di Miramare, is as rich in history as it is in beauty - its surrounding gardens and commanding position on the promontory above the Gulf of Trieste having served the Habsburg family until the mid-20th century. Today, the castle is open to visitors as a state museum, where you can tour the castle's main rooms and take in unobstructed views from its 54-acre (22-hectare) botanical garden, Miramare Park.
Designed by Austrian architect Carl Junker, Miramare Castle is unlike any other in the region, its white-stone towers and Gothic-, Medieval- and Austrian-inspired architecture at once contrasting against and blending into the Mediterranean landscape. A walk through the castle interior will reveal its eclectic style and aristocratic nature, with well-preserved rooms showcasing original furniture, tapestries and instruments alongside English explanations. Miramare Park, worth the visit on its own, is free to enter and fun to explore: sculptures, ponds, fountains and cannons line the paved walkways, along with impressive views of the Adriatic Sea.
Miramare Castle can be visited as part of a Habsburg heritage tour, which explores the ruling Austrian family's influence in Trieste in the 19th century and includes a stop at Piazza della Libertà to see the city's statue of Empress Elisabeth of Austria.
Practical Info
Miramare Castle is located on the outskirts of Trieste, a little over four miles (7 km) from the city. The castle is open daily from 9am-7pm, but park hours vary by season—November to February from 8am-4pm, March to October from 8am-5pm and April to September from 8am-7pm. There is a bookshop inside the museum and a coffee shop in the garden. Photos are not allowed inside the castle.
To get to the castle from the city center, take the train to Trieste Centrale and catch the No. 6 or No. 36 bus line toward Miramare Grignano. It is then a 15-minute walk to the castle. During summer months, you can ride the ferry from Trieste to Grignano, where the castle is located, for €4.05 each way.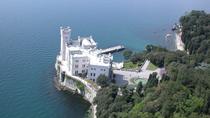 Trieste enchants visitors with historic café, grandiose architecture, castles and intellectual events.
Location: Trieste, Italy
Duration: 3 hours (approx.)
This is a Private tour with a private car/van and with your personal driver/ escort and will take you from the cruise terminal, hotel or your other ... Read more
Location: Koper, Slovenia
Duration: 3 to 5 hrs