7 Reviews
Address:

Place du Marché, Marigot, St Maarten

Hours:

Open Wed and Fri mornings
St Maarten has no shortage of upscale shops jostling for the tourist dollar (or euro, or yen). But a more authentic experience awaits you on Wednesday and Friday mornings when the market sets up in Marigot, the French "capital". Fishermen bring their haul here in the early hours, and are later joined by fruit and vegetable sellers as well as spice vendors, filling the air with heady tropical scents.
If you're after less perishable keepsakes, local artisans sell jewelry and small decorative items, and you can stock up on hats, t-shirts and anything else you forgot to pack. Color schemes tend towards the carnivalesque, but when in Rome…
After a morning's shopping, retire to one of Marigot's charming French cafes to review your spoils.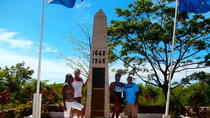 6 Reviews
Enjoy this wonderful 3-hour guided sightseeing tour which takes you from the Dutch side of the island to the French side. Start in Philipsburg, St Maarten and ... Read more
Location: Philipsburg, St Maarten
Duration: 3 hours (approx.)