No reviews, be the first!
Address:

Jozefa Karola Hella 12, Banska Stiavnica, Slovakia

Hours:

Hours vary throughout the year. In the low season, visits are by tour only, usually three times each day. Check with the tourist information.

Admission:

5 Euro, photos an additional 2 Euro
Open-Air Mining Museum Tours
Set in the Stiavnicke Vrchy Mountains near the town of Banska Stiavnica, Slovakia's Open Air Mining Museum is one of a kind and not for the faint of heart. Mining in the area dates back to the 3rd century B.C. and the area boasted one of the richest silver deposits in the Middle Ages. Gunpowder was used here for the first time ever in 1627 and over the two centuries that followed, the region was home to most of the major developments in mining and metallurgy, as well as forestry and chemistry.
Visitors have the opportunity to descend into an underground mining pit that stretches for 1300 meters underground, with the deepest section laying 45 meters below the surface. During the 90 minute tour, visitors learn about the history of mining in the Stiavnicke Vrchy Mountains and see exhibits showing both current and obsolete mining techniques and technologies, including drilling technology and methods for transporting ore. Above ground, exhibits include original mining buildings and an exposition about the geological development of the country.
Practical Info
Banska Stiavnica and the Open Air Mining Museum are located about two and a half hours from Bratislava. Visitors can get to Banska Stiavnica by taking the bus or train to Zarnovica and continuing by taxi to the town, or by joining an organized tour. The mining museum itself is 1.5 kilometers from the town center on the Jozefa Karola Hella Road.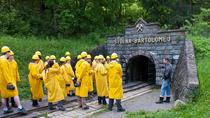 Banska Stiavnica is a Slovak city which you can find on the list of UNESCO. And there is a reason why it is the part of the list- Banska Stiavnica is situated ... Read more
Location: Bratislava, Slovakia
Duration: 10 hours (approx.)