8 Reviews
Address:

Piazza del Duomo, Siena, Tuscany 53100, Italy

Hours:

Mar-Oct: Mon-Sat 10:30am-7:30pm, Sun 1:30-6:30pm; Nov-Feb: Mon-Sat 10:30am-6:30pm, Sun 1:30-5.30pm

Admission:

€3
Siena Cathedral (Il Duomo) Tours
Siena's magnificent Tuscan Gothic cathedral is not to be missed. And if you're in Siena you can't miss it because it dominates the place. Rising high with its magnificent white and greenish black stripes, it has a bit of red thrown in on the front facade and lots of detailing - including scrolls, biblical scenes and gargoyles. In the centre is the huge rose window designed by Duccio di Buoninsegna in 1288. Statues of prophets and philosophers by Giovanni Pisano which used to adorn the facade are now housed indoors at the nearby Museo Dell'Opera.

Inside the place is equally impressive with art by Donatello, Bernini and early Michelangelo. Some of the best pieces such as Duccio di Buoninsegni's  Maesta have been moved next door to the Museo Dell'Opera. Unlike other cathedrals where you are craning your neck to see magnificent ceilings and frescoes, here you need to look down at the mosaic floor. The whole floor is tiled and is one of the most impressive in Italy. There are 56 panels of biblical and historic scenes, some of which are covered and only revealed for a few months each year (around August to October, extra fee payable).

Not content with having such an impressive Duomo, Siena's ambitious ruling families in the 14th century decided to expand the church into the Nuovo Duomo, doubling the size of the existing structure. The plan was stopped by the plague and the Museo Dell'Opera occupies the new nave that was completed.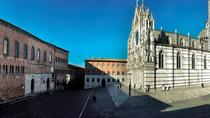 10 Reviews
Single ticket for 3 hours for the wonders of the Cathedral of Siena, Piccolomini Library, Museum, Panoramic Terrace, Baptistery and Crypt. Amazing experience ... Read more
Location: Siena, Italy
Duration: Flexible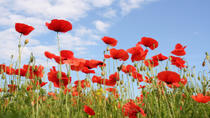 6747 Reviews
Famous for a wealth of art, history, striking landscapes and outstanding produce, Tuscany really does have the best of all worlds! With only a day to spare, ... Read more
Location: Florence, Italy
Duration: 12 hours (approx.)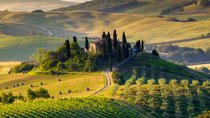 332 Reviews
There's more to Tuscany than Florence. Leave the city behind and discover three other enchanting Tuscan destinations on this day trip to Siena, San Gimignano ... Read more
Location: Florence, Italy
Duration: 12 hours (approx.)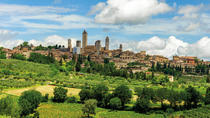 91 Reviews
Discover three of Tuscany's most iconic destinations on a full-day tour from Florence by coach. Snap photos of the famous Leaning Tower and Piazza dei Miracoli ... Read more
Location: Florence, Italy
Duration: 14 hours (approx.)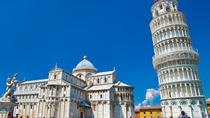 35 Reviews
Enjoy the rich history and the art of the most spellbinding sights in Tuscany in a single memorable day with a delicious lunch including two famous Chianti ... Read more
Location: Florence, Italy
Duration: 12 hours (approx.)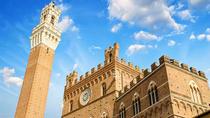 59 Reviews
Enjoy the high quality of this semi-private tour - the perfect experience in order to discover art, history, landscapes, food and wine in a comfortable and ... Read more
Location: Florence, Italy
Duration: 9 hours (approx.)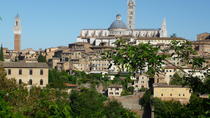 1 Review
Discover Siena with a professional guide on this private tour to admire the beauty of this Tuscan town, like its Cathedral, the Baptistery and Opera Museum... ... Read more
Location: Siena, Italy
Duration: 2 hours (approx.)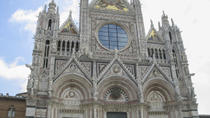 158 Reviews
Immerse yourself in Italy's history on this 2-hour sightseeing tour. Explore Siena's UNESCO World Heritage-listed Old Town; discover Siena's central square, ... Read more
Location: Siena, Italy
Duration: 2 hours (approx.)
Siena is a pearl in the Tuscan countryside, a countryside steel rich of ancient castles which show how life was going on in the middle ages. This tour will ... Read more
Location: Florence, Italy
Duration: 6 hours (approx.)
Monteriggioni is a medieval little village built in 1200 characterized by its perfectly preserved belt of walls; in the centre of the village we will stop for ... Read more
Location: Florence, Italy
Duration: 5 hours (approx.)