No reviews, be the first!
Address:

Calle Los Heroes, Perquín, El Salvador

Hours:

Tuesday-Sunday 8:30am-4:30pm

Admission:

$1.25
Even though the Civil War in El Salvador ended in 1992, it still feels current, ongoing, and real, at Perquín's Museum of the Revolution. For one thing the guides who work the museum were onetime guerilla fighters—risking their lives in tunnels and jungles to fight for the rights of the poor. When visiting this moving, informative museum, see remains of the downed helicopter that killed Colonel Monterossa—the leader of the Atlacatl Battalion responsible for the El Mozote massacre. You'll also find craters created by bombs supplied by the US military, as well as weapons used by guerrillas to battle the government army. As this section of country was pro-FMLN, it also housed the influential Radio Venceremos, which helped to spread the leftist message throughout the rural communities. Nearby, another site has hand-dug tunnels where guerrillas would hide in the hills, and visitors are welcome to climb in the tunnels to feel the cramped, dark sense of space guerrillas endured every day. While the drive from San Salvador to Perquín is lengthy—over three bumpy hours in total—it's a journey that's more than worth the reward for learning these tales from the war.
Practical Info
Many of the tour guides only speak Spanish, but some displays are in English and Spanish for reading about the events.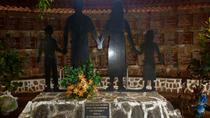 2 Reviews
During the 80s El Salvador suffered a civil war and east provinces suffered more during those years, for many years Morazan was only visited by soldiers or ... Read more
Location: San Salvador, El Salvador
Duration: 13 hours (approx.)