The area surrounding San Pedro de Atacama is rich in archaeological remains for two main reasons, the first being that the desert's extremely dry conditions have often led to preservation of various artifacts. The area also has a long history of human population that predates the arrival of the Spanish to the continent.
History and archaeology buffs will love the R.P. Gustavo Le Paige Archaeological Museum, located right in town, just off the plaza. The museum is named for its founder, a Belgian priest who established the museum in 1963, and explains the presence of the different indigenous peoples in the area through time. Artifact displays include everything from gold masks and weavings to vessels and a hallucinogenic snuff-like substance used by the original dwellers of the area.
But if you want to see where people lived and circulated, you'll have to get a bit further out of town, to the Pukara de Quitor or the ancient village of Tulor. The former, an old fortification, is just three miles from town and has a great view of the surrounding area, historically providing a vantage point for any coming attacks. Much more extensive and used as a place to live, rather than for defense, is the ancient village complex of Tulor, which covers about 1.3 acres and is characterized by its round mud walls.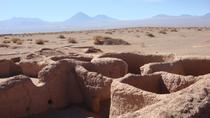 3 Reviews
Visit the ancient ruins that surround San Pedro de Atacama on this archeological tour with a local guide. Start at Tulor, a village settled by the Atacama ... Read more
Location: San Pedro de Atacama, Chile
Duration: 4 hours (approx.)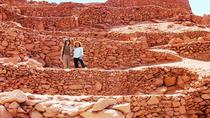 Discover the origins and development of the Atacameño culture, with iconic sites such as Pucara de Quitor or the village of Tulor.
Location: San Pedro de Atacama, Chile
Duration: 4 hours (approx.)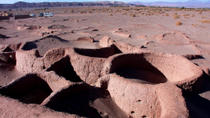 This 4-hour tour will take you to visit Pukara de Quitor Runs dating back to the 12th century. Important defensive fortress of the Atacama culture located 3 ... Read more
Location: San Pedro de Atacama, Chile
Duration: 4 hours (approx.)