No reviews, be the first!
Address:

Via del Governo Vecchio, 134, Rome, Italy

Hours:

Daily 7:30am—12pm & 4pm—7pm (until 6:30pm in the winter)
Chiesa Nuova (Santa Maria in Vallicella) Tours
Travelers who make their way to Chiesa Nuova will find a regal interior with towering white archways; brightly colored, ornately decorated ceilings; and icons of Renaissance art. The Baroque church's impressive dome holds Pietro da Cortana's Trinity in Glory (1648-1651) and the nave is home to his Miracle of the Madonna della Vallicella (1664-1665). Visitors will also see artwork by Peter Paul Rubens and Caravaggio.
Rebuilt in 1575 by a group of secular priests, the aptly named 'new church' is a product of the Counter Reformation and holds a history as interesting as its design.
Visit Chiesa Nuova on a walking tour of Rome's Baroque churches to learn about the significance of religious art and architecture at various city sites, including the impressive but little-known Chiesa di Sant' Ignazio di Loyola. For a more whimsical visit, take a tour of Rome's alleys on an electric, three-wheeled 'Ape calessino' to hit the sites and have a taste of maritozzi, the Italian sweet bun.
Practical Info
The church is located in the Piazza Chiesa Nuova in Rome, 10 minutes west of the Pantheon on foot. It faces the Corso Vittorio Emanuele, and is midway between St. Peter's Basilica and Piazza Venezia—about a 15-20 minute walk each direction. The church is easily accessible by bus, alighting at Chiesa Nuova station (buses 40, 46, 62, 64, 190F, 916, 916F, N5, N15 and N20).
Chiesa Nuova is open daily from 7:30am to noon, and again from 4:30pm to 7:30pm. In the winter months, it closes a half-hour earlier at 7pm. Masses are held every Sunday at 8am, 10am and 7pm (6:30pm in the winter). The church is free to enter.
Nearby attractions include the Torre dell'Orologio, Piazza Navona and Castel S. Angelo.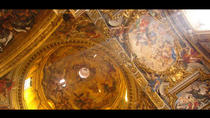 Explore some of Rome's most beautiful buildings with this 3-hour walking tour of Baroque churches. Learn the language of Baroque architecture crafted in the ... Read more
Location: Rome, Italy
Duration: 3 hours (approx.)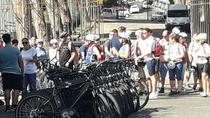 Enjoy a different tour of the highlights in the center of the Eternal city. You will ride through ancient monuments and elegant shopping streets, Baroque ... Read more
Location: Rome, Italy
Duration: 4 hours (approx.)