Many people travel to Iceland to explore its wild volcanic landscapes, admire its geysers and waterfalls, and spot the eerie Northern Lights, but this island country is also famous for its marine wildlife and the beauty of its coastline, peppered with volcanoes and indented with fjords.

There's no better way to come face-to-face with whales and dolphins off the coast of Reykjavik than by high-speed RIB (rigid inflatable boat). There are 23 species of whale regularly seen in the waters around Iceland, so if they don't show up on the first trip, complimentary tickets may be handed out for another cruise. Plus, whale spotting can be combined with learning all about the world's biggest mammals at the nearby Whales of Iceland Exhibition.
During the May to August nesting season, RIBs bump across the waves of Faxafloi Bay to Lundey Island, where thousands of puffins squabble noisily around the cliffs. Other must-see sights include the looming bulk of Mt Esja and, on a clear day, the snowy white glacier atop Snaefellsjokull volcano, which pokes above the horizon in the distance. 
And it's not only natural beauty to be admired; the architectural splendors of Reykjavik hove into view as RIB tours hug the shoreline. City landmarks include Sun Voyager by Jón Gunnar Árnason, an ethereal sculpture reminiscent of a Viking longboat, and the glittering black box of Harpa Concert Hall looming over the quayside. Further inland is the gleaming metal dome of Perlan on its hilltop at Oskjuhlío and the soaring spire of the Hallgrimskirkja, the city's largest church and much-loved icon.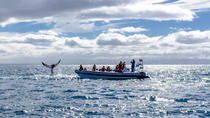 12 Reviews
Zoom around the Icelandic waters aboard a custom designed RIB speed-boat , and enjoy close-up views of whales, dolphins, puffins and more. The small yet ... Read more
Location: Reykjavik, Iceland
Duration: 2 hours (approx.)
Enjoy an exclusive 2-hour tour on our custom-built RIB express boat – perfect for whale watching with a maximum of 12 spaces! Before departing from the Old ... Read more
Location: Reykjavík, Iceland
Duration: 2 hours (approx.)
Leaving from the Old Harbour in Reykjavík, this is the ultimate puffin adventure tour. This tour is operated in our custom made RIB boats. They are ... Read more
Location: Reykjavík, Iceland
Duration: 60 minutes (approx.)