Located on Thailand's western edge, Phuket serves as a gateway to the blue seas and white-sand beaches of the Thai Islands. From a base on this well-developed island, here are the best day trips by boat for sun, sand, and sea.
Phi Phi Islands
If you've ever seen the movie The Beach with Leonardo DiCaprio, you're already familiar with Koh Phi Phi, an island with some of the most beautiful beaches on the planet. Take an express ferry from Phuket to Koh Phi Phi to explore the beach and go swimming or snorkeling among the colorful corals.
Phang Nga Bay
Limestone karsts and turquoise waters teeming with life have made Phang Nga Bay one of the most popular destinations in the Thai Islands. Spend the day kayaking and snorkeling in the waters of Ao Phang Nga National Park or board a traditional Chinese junk boat for a lunch cruise past the breathtaking rock formations.
James Bond Island
Famous James Bond Island (Khao Phing Kan) gained international attention when it appeared in the 1974 James Bond flick The Man with the Golden Gun. To see this sheer limestone karst jutting from the emerald green water, take a James Bond–themed boat tour or sunset dinner cruise.
Similan Islands
Scuba divers and snorkelers from around the globe come to Similan Islands National Park to experience the clear waters and fish-filled corals of this tropical paradise. Snorkeling tours by speedboat typically include multiple swimming stops, as well as time to relax on one of the archipelago's white-sand beaches.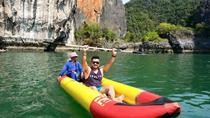 13 Reviews
This day trip to James Bond Island (Khao Ping Kan) gets you there by 25-passenger speedboat from Phuket. Relax with premium service that includes refreshments, ... Read more
Location: Phuket, Thailand
Duration: 9 hours (approx.)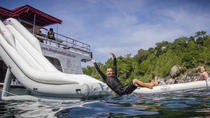 7 Reviews
Join this day cruise from Phuket to Koh Raya Yai on the first-class boat, 'Latitude.' Your fun-filled day of water activities includes snorkeling, transparent ... Read more
Location: Phuket, Thailand
Duration: 8 hours (approx.)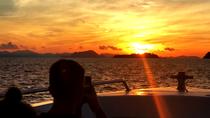 4 Reviews
Enjoy a day exploring Thailand's most beautiful Islands, The Phi Phi Islands. Marvel in the beauty of the islands on this 8-hour tour, visiting Khai Island, ... Read more
Location: Phuket, Thailand
Duration: 8 hours (approx.)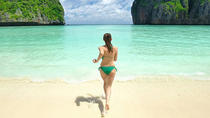 14 Reviews
Visit a world-famous open-ocean snorkelling locale for your chance to spot hundreds of species of tropical sea life! Stop at Maya Bay, the famous island from ... Read more
Location: Phuket, Thailand
Duration: 10 hours (approx.)
Simba Sea Trips, the #1 ranked speedboat tour company in Thailand on Trip Advisor, is a highly acclaimed company with 13 years experience, conducting ... Read more
Location: Pa Tong, Thailand
Duration: 8 hours (approx.)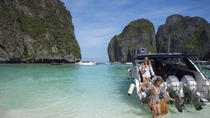 146 Reviews
This tour offers a full day out to visit Koh Phi Phi, which many regard as the two most beautiful islands in the Andaman Sea.
Location: Phuket, Thailand
Duration: 8 hours (approx.)
Two days to the discovery the magnificent area around Phuket: the Bay of Phang Nga with the famous James Bond Island, then stop in the middle 'way to see the ... Read more
Location: Phuket, Thailand
Duration: 2 days (approx.)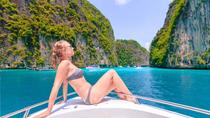 6 Reviews
Speed away to the Phi Phi Islands on a day trip from Phuket and escape the crowds. You'll travel with a guide by speedboat across the Andaman Sea to the most ... Read more
Location: Phuket, Thailand
Duration: 9 hours (approx.)
Simba Sea Trips, the #1 ranked speedboat tour company in Thailand on Trip Advisor, is a highly acclaimed company with 13 years experience, conducting ... Read more
Location: Pa Tong, Thailand
Duration: 8 hours (approx.)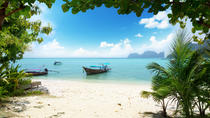 105 Reviews
Situated along the southern end of Thailand's coast in the Andaman Sea, you will find one of the most idyllic tropical locations on earth - the islands of Ko ... Read more
Location: Phuket, Thailand
Duration: 10 hours (approx.)