No reviews, be the first!
Address:

Avenida Fontana 140, Trelew, Argentina

Hours:

9am-7pm daily (September-March), 9am-6pm Monday-Friday, and 10am-7pm on weekends (March-September)

Admission:

$7 for adults and $5 for children
Museum of Paleontology Egidio Feruglio Tours
Argentinian Patagonia is a massive chunk of land, extending from wind-whipped southern shorelines to snowy Andean peaks. Animals have walked and hunted this landscape for hundreds of millions of years—and much of it is documented right here in this museum of paleontology. When visiting Egidio Feruglio, stare in wonder at a dinosaur skeleton that's 150 million years old, or the fossilized bones of an ancient turtle that lived 60 million years ago. You'll also find the history of peoples who settled Patagonia, enduring the harsh, challenging landscape and finding a way to survive. While exhibits date back all the way to microorganisms, it's the dinosaur fossils from the Mesozoic Era that make the museum stand out. Whenever fossils are found in Patagonia they often end up in these halls, where teams of some of the world's best paleontologists will study them and put them together. In total, over 1,700 fossils are found inside the museum walls, from marine life and plants to early mammals and fearsome, furious dinosaurs. Add in some fun-filled children's exhibits and a stream of new discoveries, and the Museum of Paleontology Egidio Feruglio is a fascinating stop in Trelew.
Practical Info
In addition to exhibits found in the museum, there are also occasional trips to Bryn Gwyn, a paleontological geopark. Ask about the 3-hour tours of the park, where visitors seem to hike back in time to a period of 40 million years ago. The museum itself has a café onsite, as well as a well-stocked "Dino Shop" for picking up dino-themed gifts.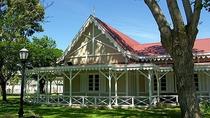 4 Reviews
This shore excursion from Puerto Madryn takes you on a private tour of the towns of Trelew and Gaiman, the center of Welsh colonial settlement in Argentina. ... Read more
Location: Puerto Madryn, Argentina
Duration: 5 hours (approx.)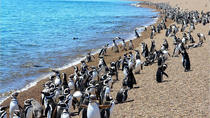 2 Reviews
Punta Tombo is one of the most famous and visited coasts along the eastern coast of Argentinean Patagonian. You'll surely be amazed by one of the most ... Read more
Location: Puerto Madryn, Argentina
Duration: 8 hours (approx.)