France is an undisputed epicenter for culture, art and of course, history. And while it's possible to explore the sites on your own, organized tours provide an up-close look and in-depth exploration of some of the most significant battlefields, memorials and historic sites across the country.
Travelers looking to learn about Canada's role in World War I can gain access and insight on a full-day private tour of World War I Canadian Battlefields from Brussles. After departing their hotel, visitors will learn about Canada's impact on World War I during a two-hour journey to the French town of Vimy, where Canadian troops beat the Germans in what is perhaps their most important victory. Travelers will visit former trenches and make a stop at the Canadian National Vimy Memorial. This brilliant white building lights up the quiet French countryside and pays homage to fallen soldiers. The tour also makes stops at the Messines Ridge British cemetery and Irish Peace Park, Tyne Cot Cemetery and the city of Ypres, where visitors can participate in the Last Post Memorial Service to honor all of the unaccounted for British and Commonwealth soldiers.
History buffs who book the private Battle of the Somme and Battle of Vimy Ridge Day Trip from Brussels will gain full access to northern France's most-historic World War I sites and hear insider knowledge from an expert guide. Visitors will see where the Battle of the Somme and Battle of Vimy Ridge were fought between Germany and the allies, and walk through former trenches where soldiers sought safety during war. The day-long tour stops at the Australian Corps Memorial Park and takes travelers up close to the Lochnagar Crater, an enormous hole caused by a massive explosion. A stop at the Thiepval Memorial to the Missing of the Somme serves as a somber reminder of the British and South African soldiers who lost their lives during World War I. The tour also concludes with a stop at Notre Dame de Lorette—known as the Ablain-St-Nazarie French Military Cemetery—for a look at the largest French Military Cemetery in the world before returning to Brussels.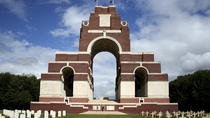 1 Review
Discover northern France's famous World War I battlefields, trenches, cemeteries and memorials on this private day trip from Brussels. Learn about the history ... Read more
Location: Brussels, Belgium
Duration: 13 hours 30 minutes (approx.)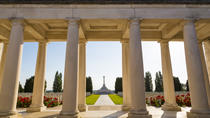 2 Reviews
Gain insight into Canada's role in World War I on this full-day private tour from Brussels to the Canadian battlefields, memorials and cemeteries straddling ... Read more
Location: Brussels, Belgium
Duration: 13 hours 30 minutes (approx.)