Escape the crowds of New York City and check out the most powerful falls in North America on a tour to Niagara Falls. Options include full-day tours by air and multi-day trips through upstate New York and even Toronto. Here's everything you need to know.
Full-Day Tours
If you're strapped for time, you can experience Niagara Falls in a single day on an excursion from New York City. Fly to the falls in the morning to save time and enjoy guided tours on both the American and Canadian sides, depending on the option chosen, as well as a boat tour to the edge of the falls. After a long day of exploring this North American icon, you'll make it back to New York City in the evening.
Multi-Day Tours
Multi-day tours allow for more time spent exploring the falls and the surrounding area, and include round-trip transportation either by road or by air. Book a two-day tour by air for an in-depth Niagara experience that includes a guided tour, a boat cruise, free time to explore the area, and evening fireworks over the falls. Or, travel by coach to enjoy the scenery and experience the Finger Lakes region of New York along the way. Three-day tours by road typically include stops in the Finger Lakes, the Thousands Islands, and Toronto in Canada, all in addition to Niagara Falls.
Things to Know
Niagara Falls is set about 400 miles (645 kilometers) northwest of New York City, a journey about 6.5 hours by road and one hour by air.

Fireworks shows over the falls take place on Wednesday, Friday, and Saturday evenings, weather permitting.

Accommodation is typically included in the price of multi-day tours.

Don't forget to bring your passport to visit the Canadian side of Niagara Falls.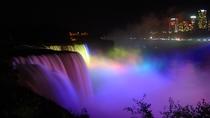 Experience the majesty of Niagara Falls on this exciting 2-day trip from New York City. After a quick 60-minute flight from NYC to Niagara Falls, NY, enjoy a ... Read more
Location: New York, New York
Duration: 2 days (approx.)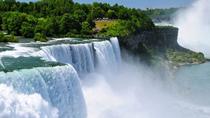 905 Reviews
Discover the beauty and awesome power of Niagara Falls on a day trip from New York. You'll fly to Upstate New York, tour the falls on both the US and Canadian ... Read more
Location: New York City, New York
Duration: 14 hrs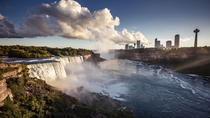 60 Reviews
Head north from New York City in a climate-controlled coach on this exciting 3-day tour to experience the best of the Niagara Falls region in both New York and ... Read more
Location: New York City, New York
Duration: 3 days (approx.)
451 Reviews
Leave the hustle and bustle of New York City behind and enjoy a relaxing 2-day overnight trip to Niagara Falls. You'll travel to upstate New York by bus and ... Read more
Location: New York City, New York
Duration: 2 days (approx.)
9 Reviews
On your visit to New York, don't miss the opportunity to visit one of the most important and impressive natural wonders in the world – Niagara Falls!
Location: New York, New York
Duration: 19 hours (approx.)