595 Reviews
Address:

Calle de Bailén, Madrid 28071, Spain

Hours:

Oct - Mar: Mon - Sat 9:30am - 5pm (9am - 2pm on Sundays & public holidays). Apr - Sept: Mon - Sat 9am - 6pm (9am - 3pm on Sundays & public holidays)

Admission:

Admission: € 8, or with guided tour € 10. Other palace areas have separate entrance fees
Royal Palace (Palacio Real) Tours
Madrid's Royal Palace (also known as the Palacio Real or Palacio de Oriente) is a beautiful baroque structure with approximately 3,000 rooms, making it one of Europe's largest castles. Although the royal family no longer lives here, the Palacio Real still serves as the king and queen's official residence, a venue for state ceremonies, and a place for tourists to get a peek into the royal history of Spain.

The Basics
The Royal Palace of Madrid is open daily, and citizens of the EU enjoy free admission, while other visitors pay a small fee to go inside. Travelers can explore independently, hire a tour guide, or rent an audio guide upon arrival; some opt to book a guided tour in advance. For a truly royal experience, you can secure exclusive early access before the palace opens.
Royal history buffs and art historians rejoice — you'll get to visit the Throne Room, see a variety of Goya paintings, and more.

Ticket lines can take a while, so book a skip-the-line ticket to avoid a long wait.

The palace is generally accessible for travelers with disabilities, and wheelchairs are available.

The nearby Royal Pharmacy (Farmacia Real) and Royal Armory (Armería Real) are included in your palace entry ticket.




How to Get to Madrid's Royal Palace
The Royal Palace is conveniently located on Bailén Street (Calle de Bailén) in downtown Madrid near many other must-see attractions. It's an easy walk from Plaza Mayor and Puerta del Sol, and there are also a number of Metro stations, bus lines, and train stops nearby.
When to Get There
You can visit the palace year round, but be sure to check the schedule for closures and reduced hours during some public holidays. The Changing of the Guard is held every Wednesday except in July through September, during official events, and when weather doesn't permit. As at most attractions in Madrid, crowds are bigger and lines are longer in the peak summer months.

Other Sights to See Near the Royal Palace
There's a lot to see beyond the palace walls, so be sure to carve out a few hours to see the rest of the area. Just across the courtyard from the Royal Armory is the Almudena Cathedral, and beyond the gates are the free Campo del Moro gardens and Sabatini Gardens. And in front of the palace lies the Plaza de Oriente, a great place to stop at a café for a coffee or snack with a view of the royal residence.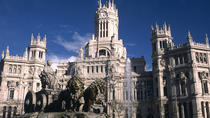 149 Reviews
Take a walk around Madrid with a local guide, and see another side to this beautiful city. Walking with a local tour guide who shares insights and stories is ... Read more
Location: Madrid, Spain
Duration: 3 hours 30 minutes (approx.)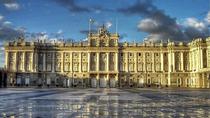 Take this opportunity to enjoy a great Madrid experience during this 4 hour private tour of the Royal Palace of Madrid with your own private guide and private ... Read more
Location: Madrid, Spain
Duration: 4 hours (approx.)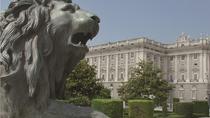 9 Reviews
Embark on a sightseeing bus tour of Madrid and discover the most important buildings, avenues and squares.
Location: Madrid, Spain
Duration: 5 hours (approx.)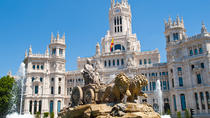 5 Days tour of Spain to discover the 2 most important cities: Madrid and Barcelona . A beautiful train journey will also connect you from one city to another. Read more
Location: Madrid, Spain
Duration: 5 days (approx.)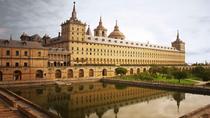 4 Reviews
During your stay in Madrid you can not miss the opportunity of visiting two of the most important monuments located on the outskirts of Madrid. You will go ... Read more
Location: Madrid, Spain
Duration: 5 hours (approx.)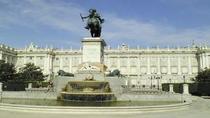 Marvel at the sights of Madrid on this half-day tour of the city and the Royal Palace.
Location: Madrid, Spain
Duration: 3 hours (approx.)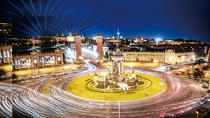 1 Review
Explore Spain and Portugal within 7 days, starting from the capital of Spain, Madrid, experience its magnificent and historical grandeur. You will continue ... Read more
Location: Madrid, Spain
Duration: 7 days (approx.)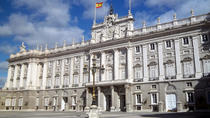 29 Reviews
Take the chance to visit the Royal Palace of Madrid with this early entrance tour and skip-the-line access. Accompanied by an official guide you will enjoy a ... Read more
Location: Madrid, Spain
Duration: 90 minutes (approx.)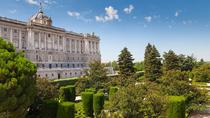 13 Reviews
Discover the Royal Palace of Madrid on a 1.5-hour guided walking tour. You will be able to discover how the kings of Spain lived. You will meet your guide at ... Read more
Location: Madrid, Spain
Duration: 90 minutes (approx.)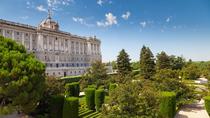 3 Reviews
Make the most of your visit to Madrid and take this tour filled with art and culture. In one day, you will tour the Royal Palace and the Prado Museum with a ... Read more
Location: Madrid, Spain
Duration: 3 hours 30 minutes (approx.)