Those touring the Holy Land in Israel and Jordan will likely cross country borders. Of the three border crossings—King Hussein Bridge, Wadi Araba, and Sheikh Hussein—the most popular is King Hussein Bridge (Allenby Bridge in Israel) on the Jordan River. Here's how to navigate the border crossing experience.
From Israel to Jordan
From the terminal on the Israeli side, visitors pay an exit tax in the local currency before having passports processed at the immigration desk. A shuttle bus designated for tourists takes passengers to the border terminal on the Jordanian side, where a checked-bag fee must be paid and passports handed over to Jordanian authorities. Passports are returned to their owners inside the terminal on the Jordanian side of the bridge.
From Jordan to Israel
When crossing from Jordan to Israel, travelers must pay an exit tax in the Jordanian terminal for stays greater than two nights. Passengers exiting Jordan must hand their passports to immigration staff, who will keep them and return them on the bus across the bridge. Upon arrival at the Israeli terminal, passengers are required to pay a baggage fee for any checked luggage and hand their passports to Israeli immigration authorities. After passing through a security check, travelers can pick up their passports and an ID card, which must be kept throughout any stay in Israel.
Things to Know
Border-crossing procedures are known to change frequently, so check the latest updates before traveling, or choose to cross the border as part of a multi-day guided tour to Tel Aviv, Bethlehem, or Petra and Wadi Rum.

Israeli immigration authorities don't typically stamp passports, but entrance stamps to Jordan will show that you arrived from Israel—ask for it on a separate paper if you are worried about having this in your passport.

Be sure to check whether you need an entry visa to enter either Jordan or Israel—it's best to organize this in advance as some land borders do not issue them on arrival.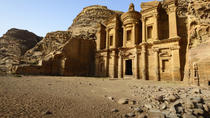 52 Reviews
Wonder at ancient Petra and other highlights of Jordan on this 2-day tour from Jerusalem with all meals, transport and overnight accommodation at a Bedouin ... Read more
Location: Jerusalem, Israel
Duration: 2 days (approx.)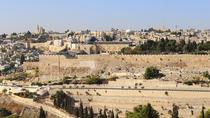 1 Review
Enjoy this multi-day tour to Israel, Jordan, and Egypt and see the best places they have to offer. Visit Nazareth with its churches, Caesarea and its Roman ... Read more
Location: Jerusalem, Israel
Duration: 9 days (approx.)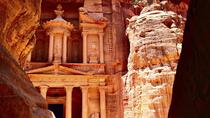 This is a fantastic tour to three countries in five days; Israel, Jordan, and Egypt. If you are short for time and want to see it all, then this is the tour ... Read more
Location: Tel Aviv-Yafo, Israel
Duration: 5 days (approx.)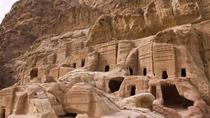 1 Review
Tour Petra with licensed guides, including transportation, entrance fees and hotel. Travel to and tour one of the Seven Wonders of the World. See the famous ... Read more
Location: Eilat, Israel
Duration: 2 days (approx.)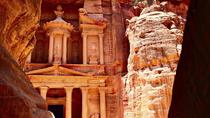 Tour Petra and Cairo for 3 days starting in Eilat. Travel to Petra one of the seven wonders of the world, and see the Treasury, the main reason Petra became ... Read more
Location: Eilat, Israel
Duration: 3 days (approx.)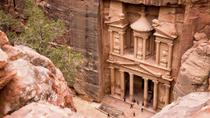 Experience Aqaba, Wadi Rum and Petra in this overnight tour from Eilat. View the ancient artifacts and ways of life.
Location: Eilat, Israel
Duration: 2 days (approx.)