No reviews, be the first!
Address:

Kehrwieder 2-4/Block D, Hamburg, Germany 20457

Hours:

Daily, 9:30 a.m.–6:00 p.m.; Tuesdays, 9:30 a.m.–9:00 p.m.; Saturdays, 8:00 a.m.–9:00 p.m.; Sundays and public holidays, 8:30 a.m.–8:00 p.m.

Admission:

€13,00 adults; €6,50 children younger than 16
Miniatur Wunderland Tours
Miniatur Wunderland in Hamburg, Germany, is definitely not your everyday miniature railroad. It's the largest miniature railroad in the world, and it's an entire world at a perfect, small scale — one that took 500,000 working hours to create. From software-controlled fire trucks putting out fires in tiny neighborhoods to a 20-foot (6 meter) tall Swiss mountain with alpine skiers and brick tunnels with perfectly timed trains, the features of the different points of interest inside the 'wonderland' are not only in perfect working order, they're filled with details that you could explore for days. Like a 'Where's Waldo' book come to life, the 8 miles (13km) of tracks that wind through Miniatur Wunderland take the visitor on a tour of a tiny world that is utterly fascinating. The airport just might be the world's most perfect flight simulator, with every possible detail in miniature. There's a mini Grand Canyon and a mini Las Vegas. 'Days' in the different cities last just under an hour, and when night falls each of the city lights come on and different characters come out to play. Spoiler alert: there's a red-light district, lovers getting frisky in a flowery meadow, and even murder scenes!
Practical Info
Miniatur Wunderland is located in Hamburg's historic Speicherstadt district. The exhibit is divided into several sections: Knuffingen (a fictitious German city), Austria and the Alps, Hamburg, Scandinavia, America, Switzerland, Italy, and the Hamburg Airport. Currently under construction are France, England, and Africa, which are scheduled to be finished by 2020.  'Behind the scenes' tours lasting an hour offer a special glimpse of what goes on in the inner workings of Miniatur Wunderland. Tours are an additional €15,00 per adult (€5,00–€12,00 per child, depending on age), and group size is limited to six individuals.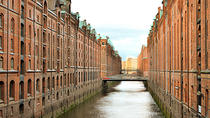 Embark on a 2-hour guided Warehouse District and Harbor City walking tour in Hamburg and find a blend of traditional and modern architecture. Get clues, ... Read more
Location: Hamburg, Germany
Duration: 2 hours (approx.)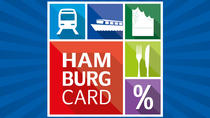 13 Reviews
With city-state traditions reaching back for centuries, Hamburg has always played a special political and cultural role in Germany's history.
Location: Hamburg, Germany
Duration: Varies