Fubo Hill (Fubo Shan) Tours
Fubo Hill is also known as "Wave Subduing Hill" due to its position right on the river, interrupting the current. Like many peaks in the area it's more a vertical rock eruption than a hill, with its peak allowing magnificent views of the city and surrounding countryside. The sheer slopes are complemented by pavilions, including a tea house.
At Fubo's foot is the natural "Pearl-Retreating Cave" whose walls have been embellished over the centuries with Buddhist carvings and outstanding examples of Chinese calligraphy.
Inside the cave a rock pillar descends from the "roof" and hovers above the ground leaving two fingers' worth of space. It's the subject of competing myths; decide for yourself if it resembles a sword thrust at the ground, or was in fact split by a sword-wielding general.
Practical Info
Fubo Hill is in the north of Guilin near Solitary Beauty Park, and can be reached by the free tourist bus 58.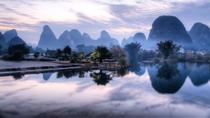 4 Reviews
Explore China's most beautiful mountains and waterways on a day trip to Guilin from Shanghai. Guilin is renowned for its famous natural scenery, and was a ... Read more
Location: Shanghai, China
Duration: 14 hours (approx.)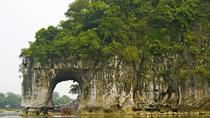 With its unique mountain landscape and Li River, Guilin continues to mesmerize travelers worldwide. This private Guilin one day tour will take you to the city ... Read more
Location: Guilin, China
Duration: 8 hours (approx.)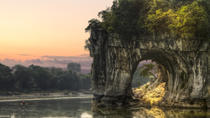 7 Reviews
The scenery of Guilin has been called 'the most magnificent under heaven.' Travel with a knowledgeable local guide on this private, full-day sightseeing tour ... Read more
Location: Guilin, China
Duration: 7 hours (approx.)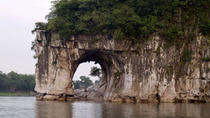 6 Reviews
Short on time? Then this private half-day sightseeing tour of Guilin is perfect. Visit the hot spots of Guilin and its magical surroundings in a short but ... Read more
Location: Guilin, China
Duration: 3 hours 30 minutes (approx.)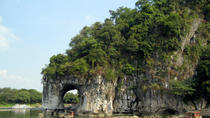 A private day tour covering highlight attractions in Guilin city. Located in the southern part of China, Guilin is considered to be the pearl of China's ... Read more
Location: Guilin, China
Duration: 8 hours (approx.)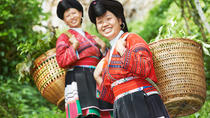 1 Review
Ride bullet train from Guangzhou, to Guilin, Yangshuo and Longji for natural scenery, South China rural life, ancient rice terraces and ethnic minority ... Read more
Location: Guangzhou, China
Duration: 4 days (approx.)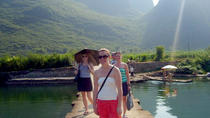 1 Review
With picturesque mountains, clear waters, mysterious caves, pretty rocks and pastoral scenes, Guilin is recognized as one of the most naturally beautiful ... Read more
Location: Guilin, China
Duration: 2 days (approx.)