No reviews, be the first!
Address:

Colonia San Carlos, Guatemala City, Guatemala

Admission:

$12.50 for adults and $7.50 for children
Irtra Mundo Petapa is more than just another theme park; it's the largest theme park in Central America, and also features botanical gardens, Guatemalan history, and a zoo. Exceptionally clean and well maintained, the park even features an Olympic sized swimming pool for beating the midday heat, and a towering, 175 ft. "skyscraper" with a thrilling vertical drop. Parts of the park are devoted toward preserving a slice of Guatemalan history, and quieter parts of the sprawling park are built in an old, 1950s style of small Guatemalan villages. You'll also find a zoo on site with dozens of species of mammals, as well as 60 species of birds that flit and squawk in the aviary. Before you leave the park for the day, be sure to ride the ferris wheel that towers above the park, where the view looks out over Guatemala City and the surrounding volcanoes beyond. Even the grandiose rainbow archway is an entertaining sight, and the Irtra Mundo Petapa is a guaranteed day of family fun.
Practical Info
Personal belongings such as hats and bags aren't allowed on any of the rides, and lockers are available at the park entrance.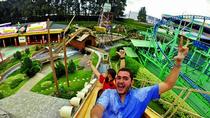 Irtra Mundo Petapa is a theme park located in Guatemala City. Here you will find something to do for the whole family. The park has a capacity for 12,000 ... Read more
Location: Guatemala City, Guatemala
Duration: 1 day (approx.)