228 Reviews
Address:

AZ, USA

Hours:

South Rim: Daily; North Rim: March 15–October 15

Admission:

$25 per vehicle; $12 per person on foot, bike or motorcycle
Anyone who has ever called the Grand Canyon "a great big hole in the ground" has made a spectacular understatement. About 277 miles (444 km) long, an average of 10 miles (16 km) wide and more than a mile (1.6 km) deep, the colorful, eroded layers of this northwestern Arizona wonder reveal nothing less than the incredible geological history of the North American continent.
Each year, some 5 million people visit this testament to the power of water over rock, making the Grand Canyon the most popular US national park. Some visitors arrive on a historic train from the depot in the Old West town of Williams, an hour south, while far more travel to the Grand Canyon by car. Day trips from Las Vegas are especially popular, as the national park can be reached by car from Sin City in about four hours. Plane and helicopter tours get you there much quicker.
At the park, travelers can brave the Skywalk, a transparent (and strongly reinforced) walkway that juts out over the West Rim; hike down, around or across the divide (remember to bring lots of water); or soar high above the whole canyon on a helicopter tour. The less intrepid can take advantage of the shuttle that runs between the park's many lookouts, or hop onto the saddle of a sure-footed mule. Overnight options range from pup tents to historic lodges, allowing you to take your time exploring one of the — quite literally — grandest attractions in America.

Practical Info
The Grand Canyon covers 1,902 sprawling square miles (4,926 square kilometers) and is about a four-hour drive from Las Vegas. The South Rim is open every day of the year, while the North Rim has a shorter season between May 15 and October 15. Entrance to the park costs $25 per vehicle, or $12 per person if entering by foot, bicycle or motorcycle. Admission is valid for seven days and includes entrance to both the north and south rims. There are hundreds of campsites within the park.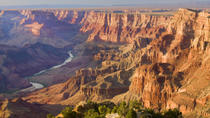 505 Reviews
Experience the scenic beauty of Arizona on this small-group day trip from the Phoenix-Scottsdale area. Visit one of the world's wonders, the Grand Canyon, and ... Read more
Location: Phoenix, Arizona
Duration: 13 hours (approx.)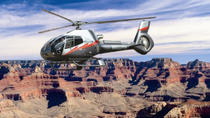 188 Reviews
Your guided tour will take you through the Red Rocks of Sedona and on a scenic drive up Oak Creek Canyon before arriving at the Grand Canyon National Park for ... Read more
Location: Phoenix, Arizona
Duration: 13 hours (approx.)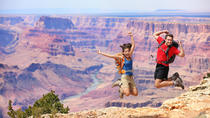 257 Reviews
Our most diverse Grand Canyon tour, the Explorer, blends remarkable ruins, dramatic lava fields, majestic volcanoes and the magnificent Grand Canyon. In the ... Read more
Location: Flagstaff or Sedona, Arizona
Duration: 11 hours (approx.)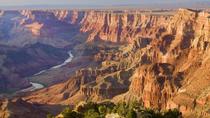 203 Reviews
This Grand Canyon National Park Bus Tour will take you to one of the great wonders of the modern world. Your bus driver is a trained tour guide who will ... Read more
Location: Las Vegas, Nevada
Duration: 14 hours (approx.)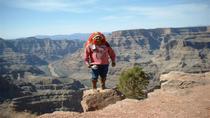 47 Reviews
For the adventurous at heart, a trip from Phoenix to the Grand Canyon in a Cessna airplane will provide the thrill of a lifetime. The narrated aerial tour will ... Read more
Location: Phoenix, Arizona
Duration: 7 hours (approx.)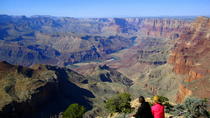 18 Reviews
This is truly the most complete Grand Canyon day trip available anywhere! In addition to magnificent Grand Canyon overlooks, you'll view lava flow fields from ... Read more
Location: Sedona, Arizona
Duration: 12 hours (approx.)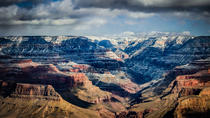 15 Reviews
Explore Grand Canyon with an informative guide on this popular one day excursion. The tour includes a beautiful scenic drive up Oak Creek Canyon, a visit to ... Read more
Location: Sedona, Arizona
Duration: 12 hours (approx.)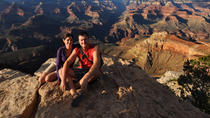 60 Reviews
Explore the Grand Canyon National Park on this day tour from Flagstaff. You'll tour in comfort as your guide teaches you about the geology and history of one ... Read more
Location: Flagstaff, Arizona
Duration: 8 hours (approx.)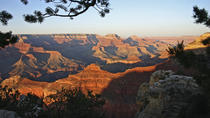 8 Reviews
Come and see the amazing wonder of the world at sunset. Watch the colors and shadows change throughout the afternoon and then set the sky ablaze as the evening ... Read more
Location: Sedona, Arizona
Duration: 12 hours (approx.)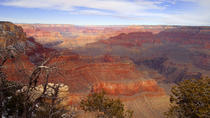 11 Reviews
Kick back and relax as your informative tour guide takes you through the red rock country in Sedona and a spectacular drive up Oak Creek Canyon. Enjoy lunch at ... Read more
Location: Phoenix, Arizona
Duration: 13 hours (approx.)