Outdoor Adventures in Goa
By Viator, July 2018
Goa may have some of the most beautiful beaches in India, but the state has so much more to offer than lazing away in the sun (though the sun bathing is definitely a draw). For those looking for a little adventure, check out some of the myriad of outdoor activities available in Goa.

1.  Scuba Diving

Explore the world beneath the surface of Goa's clear, turquoise waters by diving just off the coast. While Goa may not make the list of top dive spots in the world, the warm, shallow waters and abundant sea life make it a good spot for visitors new to scuba to get their feet wet. Visibility can reach up to 30 feet (10 meters).

Also, the state's coastline has several coral gardens to dive, but perhaps the most interesting sites are the wrecks of ships lost by the Portuguese during their colonial period. Most of the dive sites are situated around Grand Island, but more advanced divers should consider day trips to Angria Bank, often carpeted in starfish, or Pigeon Island, where it's common to spot sea turtles and barracuda.

2.  Sailing

The calm winds and consistent weather of southern Goa, particularly along Palolem Beach, make it an ideal spot for sailing. Rent a catamaran and head out to sea to escape the crowds on the sand for a relaxing morning or afternoon of gliding across the water. Several beaches offer catamaran rentals, and if you're new to the sport, you can easily hire an instructor along with the boat.

3.  Water Sports

The entire stretch of beach extending from Baga to Aguada is a haven for water sports enthusiasts. With nearly everything on offer you could dream up, jet skiing, wake boarding, water skiing and windsurfing are among the most popular on the menu, but more intrepid adventure seekers can take to the air with a parasail.

4.  Hiking

It may be difficult to tear yourself away from the idyllic waters, but heading inland for some trekking gives you a glimpse at a side of Goa many visitors overlook. One of the best hikes, especially if you're visiting just after monsoon season from October to December, is at the impressive Dudhsagar Falls, where the water cascades down the four tiered fall from over 1,000 feet (305 meters) above.

5.  Wildlife Spotting

The rivers and coastal waters around the state are filled with wildlife, and taking a boat expedition is a great way to spot some of these interesting critters. Along the Mandovi River, you may get lucky enough to see crocodiles or freshwater dolphins swimming near the estuary. For bird watching, pay a visit to the Dr Salim Ali Bird Sanctuary, a 440-acre (178-hectacre) mangrove forest near the capital city of Panaji (Panjim).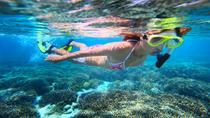 Enjoy snorkeling, swimming and dolphin-spotting on a full-day trip to Grande Island in Goa. Cruise out on the Arabian Sea and look for dolphins on the way to ... Read more
Location: Goa, India
Duration: 7 hours (approx.)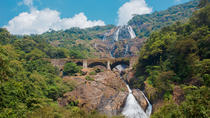 8 Reviews
Discover the wilderness of Goa on a guided, full-day tour to a private jungle camp. Take a swim at the Dudhsagar waterfall, learn about medicinal forest plants ... Read more
Location: Goa, India
Duration: 8 hours (approx.)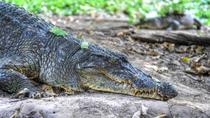 2 Reviews
This private Goa tour showcases all of the wonders this coastal state has to offer in one day. Follow your private guide on a thrilling crocodile-spotting ... Read more
Location: Goa, India
Duration: 7 to 8 hrs
A private sightseeing drive of Goa combined with a non private cruise on the Mandovi River. While onboard, enjoy music entertainment. Also ... Read more
Location: Panaji, India
Duration: 5 hours (approx.)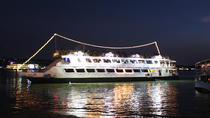 This is a perfect tour for people who enjoy night life and modern night cruise with DJ. Take the popular catamaran boat cruise and enjoy the fresh ocean breeze ... Read more
Location: Goa, India
Duration: 4 hours (approx.)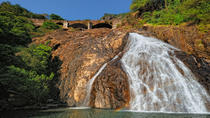 1 Review
Experience a thrilling, off-road adventure on this full-day tour in Mollem National Park from Goa. Hop aboard your jeep with a guide, travel through the ... Read more
Location: Goa, India
Duration: 7 hours (approx.)
A Full Day Trip to Palolem Beach is something which you should not miss when you are in Goa. It is a refreshing way to spend a vacation that will make ... Read more
Location: Panaji, India
Duration: 8 hours (approx.)
Add a new experience to your journey of life sighting the Indo-Pacific Humpbacked dolphins in Goa, India. Enjoy the boat ride on Arabian sea and feel the ... Read more
Location: Panaji, India
Duration: 3 hours (approx.)
A private sightseeing drive of Goa combined with a cruise on the Mandovi River. While onboard, enjoy music entertainment. You will also be served ... Read more
Location: Panaji, India
Duration: 4 hours (approx.)
A private sightseeing drive of Goa combined with a non private cruise on the Mandovi River. While onboard, enjoy music entertainment. You will ... Read more
Location: Panaji, India
Duration: 4 hours (approx.)