The Canary Islands sit just 70 miles (113 kilometers) off the coast of western Africa. But the 6,425 acres (2,600 hectares) of rolling sand dunes within Fuerteventura's Corralejo Dunes National Park might have you thinking you're visiting the African continent as opposed to a beach-filled archipelago.
The Basics
In addition to housing the biggest and best dunes in the Canary Islands, Corralejo Dunes National Park also boasts a rugged and dramatic volcanic landscape, dominated by red jagged rock formations and Montaña Roja (Red Mountain) volcano. Day trips to Fuerteventura from Lanzarote often include time at the national park for exploring the beaches and dunes, as well as visits to the hamlet of Betancuria, Church of Our Lady of Regla, and the town of Corralejo.
Things to Know Before You Go
Corralejo Dunes National Park is a must-visit for adventure travelers and sun seekers.

Be mindful when swimming at the park beaches—there are no lifeguards on duty and currents can be strong.

Bring a towel, bathing suit, sun protection, and water to enjoy the park's beaches.

Wear comfortable hiking boots, especially if you plan to explore the park's volcanic landscapes.

Day trips from Lanzarote can last upwards of 10 hours depending on the option chosen.

How to Get There
The national park lies just off the FV-1 road between Puerto del Rosario and the town of Corralejo. If you're staying on neighboring Lanzarote, the easiest way to reach the park is via ferry from Playa Blanca to Corralejo or by joining a guided tour.
When to Get There
Fuerteventura is hot and sunny throughout the year, making the national park's beautiful beaches appealing no matter the season. If you plan to do some hiking in the park, plan to visit between April and June or October, when temperatures are slightly cooler.
What's in the Sand?
Though the undulating fine white sands of the Fuerteventura dunes are surely reminiscent of the desert, the granules in Corralejo Dunes Natural Park are in fact actually made up of tiny little pieces of shell and mollusk, as opposed to anything rocky.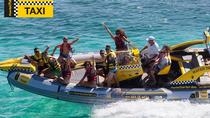 3 Reviews
The water taxi to Los Lobos brings you in a short time from Corralejo to Los Lobos what is proxi. 2km away. daily taxi from and to corralejo and the harbour of ... Read more
Location: Corralejo, Spain
Duration: Flexible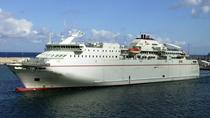 Enjoy a shopping day or the beaches in the Natural Park of the Dunes of Corralejo, with our bus service plus Naviera Armas ferry from Playa Blanca-Lanzarote. ... Read more
Location: Corralejo, Spain
Duration: 8 hours (approx.)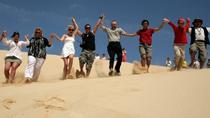 See a different side of Spain and venture to the mesmerizing Fuerteventura Dunes in Corralejo for a full-day trip, departing from Lanzarote. Discover the ... Read more
Location: Playa Blanca, Spain
Duration: 8 hours (approx.)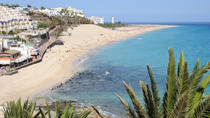 46 Reviews
Experience beautiful Fuerteventura on a day trip from Lanzarote! Twice the size of its busier neighbor, this captivating island is all ancient volcanoes, ... Read more
Location: Lanzarote, Spain
Duration: 9 hours (approx.)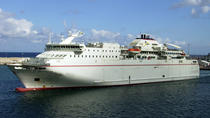 3 Reviews
Guided route in to Fuerteventura, its endless roads, desert landscapes and contrasts, Betancuria, Pájara or  the famous Natural Park Las Dunas of ...
Location: Puerto del Carmen, Spain
Duration: 10 hours (approx.)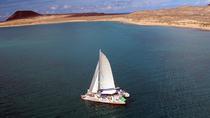 La Graciosa is the main island which makes up the largest protected marine reserve in Europe, the Chinijo natural space.
Location: Orzola, Spain
Duration: 9 hours (approx.)