Located in New Zealand's Westland National Park and Te Wahipounamu World Heritage Area, the Fox and Franz Josef Glaciers are two of the world's most magnificent and accessible glaciers. Echoes of the ice age prevail against the spectacular backdrop of the Southern Alps, as Franz Josef and Fox Glacier cascade dramatically from the mountains to the rainforest valley floor on the wild West Coast.
This combination of ice and temperate rainforest is an ecosystem unique to New Zealand, where local expert guides will take you on the trek of a lifetime, venturing high up into the mountain heart of these majestic flows.
Take a river walk across historic swing bridge for stunning views of the Fox Glacier, or the Mount Fox Track for a breathtaking climb through alpine herb fields of edelweiss, buttercup, hebe, grasses and other plants to the peak of Mt. Fox. The Fox Glacier Valley Walk takes you past glacial moraines, the piles of rock and dead ice scoured from the mountains as the glacier moved down the valley, some left behind after the last glacial retreat in the 1960's. You have an impressive view of the terminal face with the Cook River surging from beneath the wall of ice.
The easiest way to see the most spectacular part of the glacier is to take part in a heli-hike landing on the ice high up in the glacier to see the spectacular ice formations and enjoy  panoramic views.
Take a bush walk through the rainforest into the glacier valley on the glacier adventure, hiking into the most spectacular terrain of natural ice caves, pinnacles and waterfalls, usually seen only by experienced mountaineers. Alternatively, opt for a walk to the terminal face to see formations gouged out by moving ice over thousands of years, in a relaxing, interpretive valley walk. Venture beyond the public barriers and right up to the dramatic terminal face of this advancing glacier.
Adventurous spirits will adore the invigorating sport of ice climbing, with expert tuition and all technical equipment. Learn to safely climb on the soaring ice walls in seven hours of exhilarating adventure, while enjoying the dramatic scenery and magnificent terrain of the Franz Josef Glacier.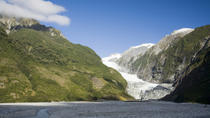 76 Reviews
On this day trip from Franz Josef experience New Zealand's stunning nature of the Franz Josef Glacier. This relaxing, interpretive walk to the glacier is the ... Read more
Location: Franz Josef, New Zealand
Duration: 3 hours (approx.)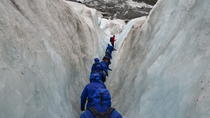 3 Reviews
Visit highlights of New Zealand's South Island on a 3-day tour from Queenstown to Christchurch. Be amazed by the Fox Glacier on a 3-hour guided hike that gives ... Read more
Location: Queenstown, New Zealand
Duration: 3 days (approx.)