When it comes to wine, the city of Dunedin isn't exactly awash in vineyards. This coastal city of 126,000 residents is better known for the Otago Peninsula, a sprig of land best known for its windswept beaches and penguins. For what it lacks in immediate vineyards, however, it more than makes up for with its general proximity to the Central Otago wine country—currently one of the world's fastest growing wine regions and the southernmost wine region in the world.

At a distance of two and a half hours from Dunedin, wine tasting in Dunedin is usually an adventure that occupies the entire day. The drive, however, is as much of an adventure as touring the vineyards themselves. Upon leaving the city, the road toward the wine country traces the Clutha River as it winds past rural towns before eventually emerging in the plains of Otago. Here, on the leeward slope of the Southern Alps, the dry conditions and temperate climate create the perfect conditions for growing grapes. From Alexandra to Cromwell and down towards Arrowtown, rows of vines and enticing wineries collectively create the Central Otago wine trail.

With a terroir that is similar to Alsace or Germany, many of the vineyards specialize in varietals such as Riesling, Gewurztraminer, and tasty Chardonnay. While whites are definitely popular in the region, the grape that definitively put Otago on the map is the fruity and peppery Pinot Noir. Many of the vineyards in Central Otago have produced award-winning vintages of Pinot, and sommeliers and wine critics across the globe are placing them on par with the Pinots of Oregon.

When wine tasting from Dunedin, the best thing to do is take part in a tour that visits a number of different wineries. Most tours will taste at anywhere between four or five different wineries, although there are over 35 vineyards in Central Otago which are currently open for tasting. You'll also get the chance to enjoy local produce which grown on Otago Farms, and consider picking up a bottle of olive oil to accompany any bottles of wine.

For those who only have time to stay in the city and can't make the trip to the wine country, there are a couple of wine bars in downtown Dunedin that highlight the nation's varietals. For those with the time to explore, however, who have a keen interest in vineyards and wine, enjoying a tour to Central Otago is the absolute best way to go wine tasting in Dunedin.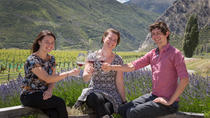 64 Reviews
Experience the beauty of Central Otago, its fine wines, rich gold history and welcoming people. This Central Otago wine tour from Queenstown will take you into ... Read more
Location: Queenstown, New Zealand
Duration: 5 hours 30 minutes (approx.)