Planetarium Cusco Tours
By day, the city of Cusco is an enchanting playground of mysterious Inca ruins. By night, the city is bathed in a soft yellow light which illuminates the colonial sights. On the outskirts of the city, the lights give way to a gaping black sky which canvasses the peaks of the Andes. It's a city in the sky which hovers beneath a consuming canopy of stars.
While the Plaza de Armas illuminated at night is one of the most iconic images of the city, those who are looking to learn about the stars should book a tour to the Cusco Planetarium. This informative stop on the edge of the city offers a family-friendly outing for stargazing, and it also provides an educational look at how the Inca interpreted the stars. Did you know, for example, that the Inca determined their constellations by the spaces between the stars? Or that many parts of Incan society were dictated by the movements above them?
For those looking to bridge Cusco with the heavens, the tour departs from the historic city center in a private, comfortable vehicle. 20 minutes later, visitors will learn about the Southern skies and the astronomical knowledge of the Inca. With the educational portion of the evening complete, move outside to the awaiting telescopes for an up-close view of the stars. Though the modern instruments make stargazing easier, it's a humbling feeling to be gazing upon stars which were tracked and studied by the Inca. Though the city of Cusco may have been conquered and rebuilt, the heavens that rotate high above the city are intriguingly and refreshingly the same. This is easily on of the most unique nights in Cusco, and the tour finishes early enough that you can still enjoy the city by night.

Practical Info:
The ticket office is open daily 9 am to 1 pm. Tours meet at 5:40 pm at Plaza Regocijo in the historic center of Cusco, and then they travel 15 minutes to the site of the Planetarium. Tours last until 8:30 pm, and the price varies with group size.
4 Reviews
An experience designed to connect you with the universe, to dream and listen to yourself. The Planetarium Cusco is located 15 min from the historical city ... Read more
Location: Cusco, Peru
Duration: 2 hours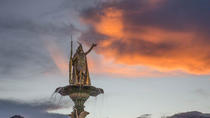 13 Reviews
This tour will take you to a local market and then out in the town of Cusco at night. We will meet up at your hotel and take you first for a tour of a local ... Read more
Location: Cusco, Peru
Duration: 5 hours (approx.)
This is one of our favourite tours. Picking you up in the early evening from your hotel, our first stop is Cristo Blanco. This 8 metre high, illuminated ... Read more
Location: Cusco, Peru
Duration: 4 hours (approx.)