Elafonisi Beach Tours
A dreamy coastal lagoon blessed with coral pink and powder white sands, a rocky islet marooned in azure waters and colorful corals swirling underfoot: Elafonisi Beach is every bit the postcard star of Crete. With shallow waters, sunbeds for hire and ample amenities, it's the ideal spot for families with children, but the real highlight is wading out to the offshore island, reachable on foot from the mainland.
Despite its popularity, Elafonisi's wild landscapes make it easy to escape the crowds and exploring the island is a treat for adventurers. A protected Natura 2000 reserve, the island harbors a remarkable variety of plant life, including an abundance of Juniper trees and Sea Daffodils. Marked trails lead the way to the lighthouse at the island's western tip, from where the views span across the Mediterranean.
Tours of Elafonisi often include a visit to nearby sights, such as the cliff-top Chrysoskalitisa monastery, the White Mountains or villages like Topolia and Elos.
Practical Info
Elafonisi Beach is located on the southwest coast of Crete.
Did you know? Elafonisi's unique pink and red sands are made up of colored seashells, ground up over the years by the waves. The precious sands are so rare that it's forbidden to remove any from the beach.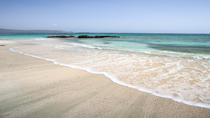 4 Reviews
Visit one of western Crete's highlights on a full-day trip to Elafonissi Island from Chania. After traveling by coach to the west of the sun-baked island, ... Read more
Location: Crete, Greece
Duration: 14 hours (approx.)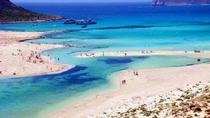 2 Reviews
Elafonisi ( "deer island") is an island located close to the southwestern corner of the Mediterranean island of Crete, of which it is administratively ... Read more
Location: Chania, Greece
Duration: 12 hours (approx.)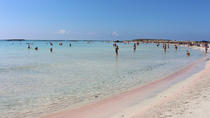 This excursion takes you to the extreme southwest of Crete and to the foothills and wild mountain landscape of the White Mountains and to the Dream Beach ... Read more
Location: Chania, Greece
Duration: 9 hours 30 minutes (approx.)