281 Reviews
Address:

Main Wharf, Akaroa 7520, New Zealand

Hours:

Daily

Admission:

Free
Although it's located in a former British colony, Akaroa Harbour is decidedly French—down to the baguettes and street names—as this Christchurch enclave was originally founded by pioneering French settlers. Just 90 minutes from Christchurch on the rugged Banks Peninsula, Akaroa drifts along at a pace that's much more rural, laidback—and French—than the South Island's bustling metropolis.
Aside from the welcoming, francophone atmosphere and scenic views, Akaroa is an especially popular spot due to its offering of a chance to spot wild dolphins. Because the harbor is located inside the caldera of a sunken volcano, it's an ideal spot to view the aquatic mammals as they splash and swim in the wild, with some operations allowing you to swim alongside them if you keep a respectable distance.
In addition to dolphins, penguins also live in Akaroa Harbour, as well as colonies of fur seals that frequent the rocks and diving cormorants, or shags. For some added adventure in the area, tour the scenic coastline by kayak and scour the waters for wildlife—you may see a pod of Hector's dolphins, the smallest dolphins in the world.
Practical Info
Akaroa is 46 miles (75 km) southeast of Christchurch, from which shuttles run daily. If driving from the city,. follow the scenic Highway 75 across the peninsula to Akaroa.
The harbor is a marine mammal sanctuary where encounters with wildlife are regulated. No touching or harassment of wildlife is allowed, and in events such as mother animals seen swimming with babies, or dolphins appearing to be feeding, guests can view the wildlife from the boat as opposed to getting in the water.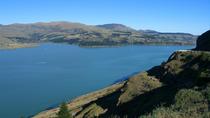 160 Reviews
While your ship is in port in Akaroa Harbour, take a shore excursion to tour the scenic Banks Peninsula and visit the city of Christchurch. You'll see how ... Read more
Location: Christchurch, New Zealand
Duration: 6 hours 30 minutes (approx.)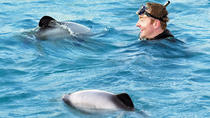 28 Reviews
Make a date with the worlds smallest, rarest and friendliest dolphins only on Akaroa Harbour. There is only one place on the planet where you can swim with ... Read more
Location: Akaroa, New Zealand
Duration: 3 hours (approx.)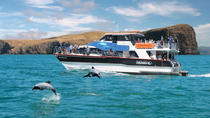 36 Reviews
Experience majestic scenery and stunning wildlife including dolphins, penguins and marine bird life on this Akaroa Harbour Nature Cruise.
Location: Akaroa, New Zealand
Duration: 2 hours (approx.)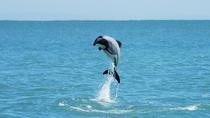 27 Reviews
After your cruise ship docks in Akaroa, take a nature cruise across the harbor to spot dolphins and admire New Zealand's stunning scenery. Look out for New ... Read more
Location: Akaroa, New Zealand
Duration: 2 hours (approx.)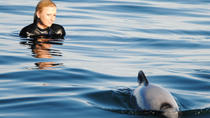 6 Reviews
When your cruise ship docks in Akaroa, take a shore excursion to swim with dolphins. Akaroa's beautiful sheltered harbor is the only place on the planet where ... Read more
Location: Akaroa, New Zealand
Duration: 3 hours (approx.)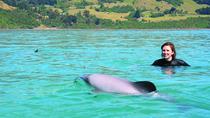 18 Reviews
Explore the coastal town of Akaroa and enjoy a once-in-a-lifetime chance to swim with dolphins on this full day tour from Christchurch. Travel through the ... Read more
Location: Akaroa, New Zealand
Duration: 9 hours (approx.)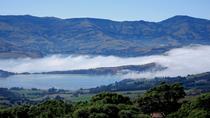 6 Reviews
Discover the historic town of Akaroa and the magnificent natural beauty of the Banks Peninsula on this small group tour from Christchurch. Be amazed by the ... Read more
Location: Akaroa, New Zealand
Duration: 9 hours (approx.)