No reviews, be the first!
Address:

Kpt. Jarose 46/19, Karlovy Vary, Western Bohemia, Czech Republic 360 06, Czech Republic

Hours:

Museum open daily 9am–5pm; Glassworks open daily 9am–2:30pm

Admission:

Adults: CZK 80; Students: CZK 50; Family: CZK 180
Moser Glassworks Tours
Bohemia has long been associated with the making of fine crystal and glassware, and one of its finest exponents is Moser, founded in 1893 and based in the famous, picturesque spa town of Karlovy Vary, 130 km (81.25 miles) west of Prague. Traditionally made according to a secret formula, Moser glass is renowned for its intense, jewel-like colors and is created by hand in the factory – which is open for tours – using eco-friendly lead-free crystal. Glassblowers hand their skills on from generation to generation and in all it takes up to ten years to become expert in hand shaping and blowing the glass while working alongside furnaces heated to 1,200°C. Elegant Moser glassware graces Royal tables and Is used in the making of the awards for the Karlovy Vary International Film Festival, held each year in July. Fine examples of the craft, from sapphire-blue flower vases to delicately gilded wine goblets, are beautifully displayed in the new Moser Museum, which offers multimedia accounts of the company's long history while celebrating more than 120 years of glass-blowing talent. A sales gallery allows visitors to purchase Moser glassware and the café terrace is a pleasant summer spot for coffee and cake amid sparkling crystal sculptures and splashing fountains.
Practical Info
Kpt. Jarose 46/19, Karlovy Vary. Opening hours: museum daily 9am–5pm; glassworks daily 9am–2.30pm. Admission museum: adults CZK 80, students CZK 50, family CZK 180; glassworks adults CZK 120, students CZK 70, family CZK 260; combined ticket adults CZK 180, students CZK 100, family CZK 390. Karlovy Vary is west of Prague and best accessed by car in under two hours along the E48.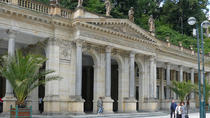 Embark on a private tour and see the ruins of a medieval castle in Bohemia, visit one of the most famous crystal glass factories in Prague and buy unique ... Read more
Location: Prague, Czech Republic
Duration: 10 hours (approx.)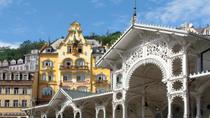 142 Reviews
Take a day trip through the picturesque West Bohemian countryside to the world-famous spa town of Karlovy Vary. Better known by its German name, Karlsbad (or ... Read more
Location: Prague, Czech Republic
Duration: 10 hours (approx.)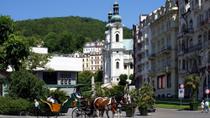 Take this private 10-hour day trip from Prague to Czech Republic's most famous spa town Karlovy Vary and walk the colonnades of this colorful town with its ... Read more
Location: Prague, Czech Republic
Duration: 10 hours (approx.)
5 Reviews
Explore the spa town Karlovy Vary on this one-day trip from Prague. Explore the world-famous spa town with its enchanting promenade and charming cobblestone ... Read more
Location: Prague, Czech Republic
Duration: 9 hours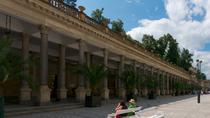 Visit the biggest spa town in the Czech Republic during this 8-hour privately guided tour. Discover Karlovy Vary's marvelous architecture and romantic ... Read more
Location: Prague, Czech Republic
Duration: 8 hours (approx.)