No reviews, be the first!
Address:

78-6740 Alii Dr, Kailua-Kona, Hawaii, USA 96740, USA

Hours:

Open daily dawn-dusk
Yellow tang, surgeon fish, multi-colored parrot fish, pufferfish, humuhumunukunukuapuaa (Hawaii's state fish) and over 100 other species can be spotted in this crystal clear and protected cove south of Kailua-Kona. Kahaluu Beach Park's small stretch of white coral and black lava beach makes this one of the great and rare Hawaii Island snorkeling spots that also affords easy ocean access. Couple that with its picturesque setting—fringed with palms and bookended by the tiny white-clapboard 1880s Saint Peter by the Sea mission—shallow u-shaped bay, and year-round water temperatures hovering between 75 and 81 degrees, and Kahaluu is a strong a contender for the Island's best snorkeling locale. Beyond the ancient rock wall said to be built by Menehune (a hard-working race of little people in Hawaiian legends), seasonal breakers around five feet high entice both beginner and moderately experienced surfers. During the winter months, monster waves rage and bring out the experts as they have for centuries—it's said this was a popular surf spot for alii (Hawaiian royalty). With all of these great features, Kahaluu Beach Park's charms are no secret—after around 10 a.m. it can be challenging to find a spot in the parking lot or on the sand.
Practical Info
Kahaluu Beach Park is located at 78-6740 Alii Drive and is free and open to the public from dawn to dusk. There is an onsite lifeguard as well as several showers, bathrooms and half a dozen picnic tables under a small gazebo (though there is no place within walking distance to get food, so pack a snack!). Recently, a large truck-turned-information center run by an area non-profit has begun parking in the onsite lot. Its volunteers are expert locals who care about the ocean life and promote safe snorkeling habits (like not standing on the reef), and can tell you more about "that orange fish" you saw. The truck also sells reef-safe sunscreen and rents snorkeling gear. Other popular rental options include Kahaluu Bay Surf and Sea, which also offers surf and SUP lessons from its shop across the street, and Snorkel Bob's in downtown Kailua-Kona.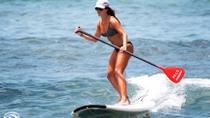 3 Reviews
Enhance your Hawaiian vacation with a stand-up paddleboard lesson in Kona! Stand-up paddleboarding (or SUP) originated in Hawaii and is a great way to enjoy ... Read more
Location: Kona, Hawaii
Duration: 2 hours (approx.)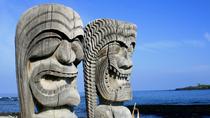 Experience old Hawaii with a step back in time on the Kailua-Kona coastline with this 4.5-hour, small-group tour of no more than 14 travelers. Enjoy the scenic ... Read more
Location: Kailua-Kona, Hawaii
Duration: 4 hours (approx.)