Meaning "submerged crocodile" in Yucatan Mayan, Lamanai is perhaps the most fascinating of all of Mayan sites in Belize if only because it is not yet completely uncovered. See history in the making as you visiting the excavation site, and prepare yourself for amazement when you realize that the hill you're looking at is actually a temple, still buried underground.
The temples you do get see, however, are equally incredible. Rising all the way from the jungle floor to above the canopy, study the amazing carvings and other examples of Mayan architecture in these astounding structures. 
If you're feeling daring, venture to the top of El Castillo, one of the larger temples, by way of a narrow set of steps and a rope. The view of the jungle from the top is one-of-a-kind, and after climbing the 100ft (30m) to the top, it will be well worth it.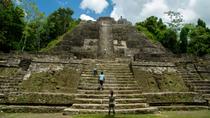 38 Reviews
Discover ancient Mayan architecture on an excursion through Belize's exotic landscapes. You'll enjoy stunning views and spot diverse wildlife as you make your ... Read more
Location: Belize City, Belize
Duration: 9 hours (approx.)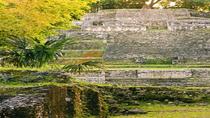 5 Reviews
On this full-day air tour from Ambergris Caye, cruise by riverboat to the Mayan temple ruins of Lamanai, viewed from the New River Lagoon in the heart of a ... Read more
Location: San Pedro, Belize
Duration: 12 hours (approx.)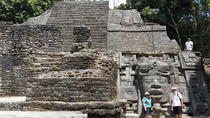 2 Reviews
Enjoy a full-day guided tour of Lamanai departing from Belize City. Embark on a river cruise then explore the Mask Temple, the High Temple and Jaguar temple ... Read more
Location: Belize City, Belize
Duration: 8 hours (approx.)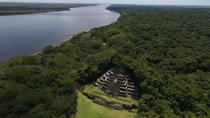 3 Reviews
Step back centuries into the past on this 6-hour combination tour. From Belize City, cruise along the New River through the jungle to reach the ancient Mayan ... Read more
Location: Belize City, Belize
Duration: 6 hours (approx.)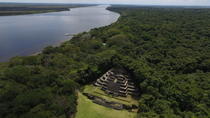 Your day starts with pick up at your desired location in Belize City. You will go fishing on the New River Lagoon for about 2 hours then you will be headed to ... Read more
Location: Belize City, Belize
Duration: Flexible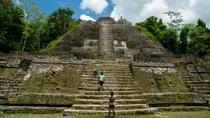 Visit the hidden Mayan city of Lamanai and discover the ruins of Belize's most fascinating archeological site. Your guided day trip from San Ignacio takes you ... Read more
Location: San Ignacio, Belize
Duration: 9 hours (approx.)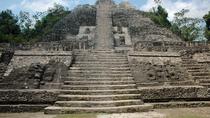 In this day tour, you will visit the Lamanai Mayan Ruins from San Ignacio. You will walk around the archaeological site with a guide and will enjoy lunch ... Read more
Location: San Ignacio, Belize
Duration: 8 hours (approx.)
This 2-day package highlights Belize's Maya archaeology, history and culture. Our river cruise to the Lamanai temples explores the New River and ... Read more
Location: Belize City, Belize
Duration: 2 days (approx.)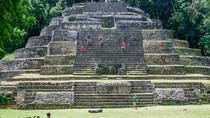 1 Review
On your way to the Lamanai site, visitors can enjoy a scenic boat ride along the New River lagoon. Morelet's crocodile and various species of birds, turtles ... Read more
Location: Belize City, Belize
Duration: 6 hours (approx.)