115 Reviews
Address:

6, rue Pente Rapide, Avignon 84000, France

Hours:

Open daily. Hours vary by date; usually open at 9am

Admission:

€ 8.50 - € 10.50 depending on season
Palace of the Popes (Palais des Papes) Tours
The Palais des Papes (Palace of the Popes) is one of the largest Gothic buildings in all of Europe and was classified as a World Heritage Site by UNESCO in 1995. Avignon became the residence of the Popes in 1309 during the period of the Avignon Papacy. It was then expanded and grew to occupy an area of 11,000 m² (2.6 acres). The papacy spent a large amount of money on the building during construction. The interiors are no less grand than the exteriors; the rooms were luxuriously decorated with expensive frescos, tapestries, paintings, sculptures and wooden ceilings.
The palais deteriorated for the next couple of hundred years despite restoration efforts and was then sacked during the Revolutionary period. The Palais was eventually taken over by the Napoleonic government for military use during which time it further deteriorated. It finally became a national museum in 1906, and persistent restoration efforts have been performed ever since. Most of the Palais is now open to the public. In addition, the it houses an expansive convention centre and the archives of the département du Vaucluse.
Explore the historical grounds of the Palais des Papes, a testament to the enormous wealth once amassed by the papacy.
Practical Info
If you are a history buff, take a tour of the Palace of the Popes with the audio guide that comes with the admission price. It you simply want to admire the palace's architecture, take the view in from across the river on the Ile de la Barthelasse.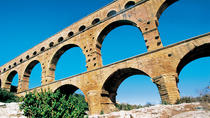 1 Review
Discover the UNESCO World Heritage–listed treasures of southern France on this small-group Avignon and Pont du Gard day trip with wine-tasting from ... Read more
Location: Aix-en-Provence, France
Duration: 9 hours (approx.)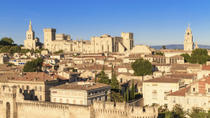 17 Reviews
Visit Avignon and experience the magnificent beauty of Provence on a full-day trip from Paris by TGV, France's high-speed train. Enjoy the scenic landscapes ... Read more
Location: Paris, France
Duration: 1 day (approx.)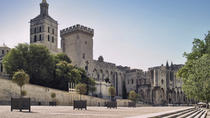 30 Reviews
Marvel at magnificent medieval architecture on this 3-hour walking tour of Avignon, including skip-the-line entry to the Pope's Palace. Explore the UNESCO ... Read more
Location: Avignon, France
Duration: 3 hours (approx.)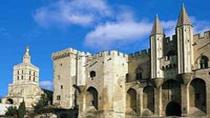 4 Reviews
The Palace of the Popes stands as the mighty symbol of the church's influence throughout the western Christian world in the 14th century. Construction was ... Read more
Location: Avignon, France
Duration: 12 hours (approx.)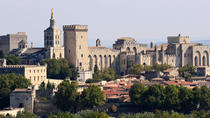 Short description: This is going to be a 11 hours unforgettable experience of tbe famous Avignon – the place of Pope's Palace (among many other ... Read more
Location: Nice, France
Duration: 11 hours (approx.)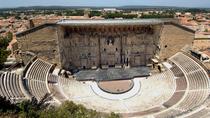 Enjoy a full day tour around Avignon from Arles and stop for a wine tasting.
Location: Arles, France
Duration: 8 hours (approx.)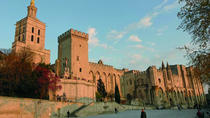 1 Review
Discover Avignon during this full private day tour in the Rhone valley, the Pope city with your guide and visit the Pope Palace before reaching the medieval ... Read more
Location: Marseille, France
Duration: 7 hours (approx.)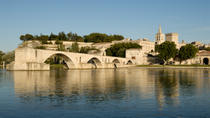 42 Reviews
Discover the delights of Provence on this full-day tour from Marseille, and enjoy scenic countryside, heritage and history, and fine wines! With an expert ... Read more
Location: Marseille, France
Duration: 10 hours 30 minutes (approx.)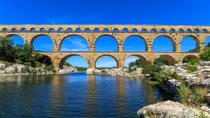 26 Reviews
Visit two stunning Provencal towns and a winery on this full-day tour from Aix-en-Provence! Start your day at leisure in Les Baux de Provence, admiring the ... Read more
Location: Aix-en-Provence, France
Duration: 9 hours 30 minutes (approx.)