Chachani Volcano Tours
Outdoor adventurers who escape to Peru should save at least two ot three days to explore the incredible trails, terrain and views of Chachani Volcano. This 20,000-foot (6,075-meter) active volcano located near the city of Arequipa is known for its intermediate climbs and technical ascents. Travelers who want to experience the wonder of world-class views can embark on a guided hike to the summit. Experienced hikers warn travelers should be prepared for cold temperatures, potential altitude sickness and a very early morning start, since most hikes kick off around 3am.
Practical Info
Low precipitation means there's no permanent snowcap to this impressive peak, but experts warn the elevation still makes for an incredibly challenging climb. Hikers usually ascend from the northern side of the mountain. Crampons and ice axes are usually required, so the trek should not be attempted by the faint of heart.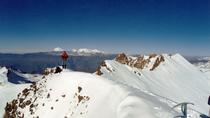 For some the limit is 8 thousand meters, 7 thousand for others, but for many to pass the barrier of 6 thousand meters of altitude means to accomplish a life ... Read more
Location: Arequipa, Peru
Duration: 2 days (approx.)